Portfolio
Index:
---
Personal Projects
The following games can be played by vising Play my games!
---
    Building a game using Raycasting techniques for rendering, the same used by Wolfenstein 3D and DOOM to make a 2D world seem 3D from a first person perspective.
    Built using C++ and SFML (Simple and Fast Multimedia Library) to handle all low level stuff like rendering, loading sprites, playing audio and etc.
    Using GitLab CI's pipelines I could setup an environment where after every commit the game is compiled and a .zip is generated with all the dependencies included. This enables the player to simply download, extract and immediately be able to play your game.
    Packages are generated for Windows and Linux, download links and CI configuration can be found on the GitLab mirror.
    Gamine is a recreation of the Enigma Machine minigame that's featured in Wolfenstein - The New Order.
    The goal was to recreate the minigame from the ground up using original assets and code. The game features an online leaderboard to showcase the players that could achieve the fastest rounds.
    Casual mobile game developed using the Godot Engine. Your objective is to hit the color coded balls in the given order, offers both scripted and random gamemodes.
    Since it is a color based game it was designed from scratch to be colorblind-friendly using textures to differentiate no matter what color deficiency you have.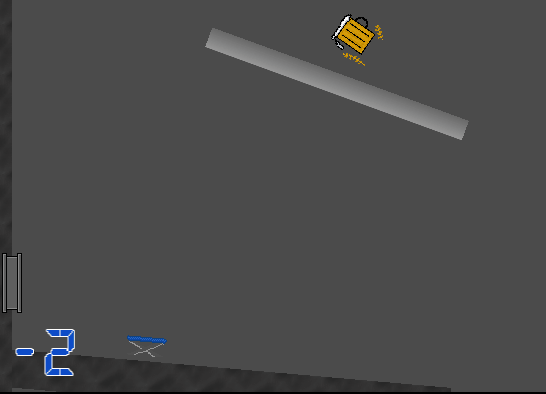 Local multiplayer brawl game available on Itch.io, made with SFML (Simple and Fast Multimedia Library) and Box2D for physics.
    A game-bot made with the library python-telegram-bot and deployed to Heroku, after sending your location the bot responds with the altitude and ranks it against other players.
---
MODS
---
    Cheat Table consisting of Lua and AutoAssembler scripts programmed to change the orientation of the camera, the two videos below were recording using this table and show how some events and easter eggs were implemented in the game.
    Cheat Table released for Eido's Interactive Mini Ninjas v1.0. Using Cheat Engine's Array of Bytes(AOB) injection and Pointer Scanning I was able to find data structures in memory and modify them to get specific behaviours out of the game.

    The cheat table includes GodMode, Noclip and zoom hacks, a write-up of interesting finds about the game engine is also included. Click the images above to see a video demonstration.
    Noclip mod for the single player game Firewatch, made using .NET decompilers and Unity's API to assign hotkeys that change your in-game coordinates. This mod enabled the recording of some very interesting footage which can be seen by clicking the images below.
Other Unity mods:
---
GameDev Resources
---
    Docker image to automatically export debug versions of Godot games to all supported desktop systems (and web). Examples using GitLab CI for Continuous Deploy are included in the repository, click the image below to see a working example using one of my Godot games.
    A Telegram bot made with Python, updates itself hourly by checking new entries in a list of RSS feeds and posts to the GameDev News Telegram channel.
Click the image above to preview the channel in your browser.
---
\ (•◡•) /
---